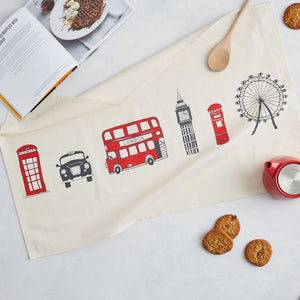 This bold London Skyline tea towel highlights 6 London icons so associated with Britishness that tourists can often been seen posing beside them, and serves as a reminder of everything you love about London. They include Big Ben, the London Eye, London bus, taxi, post box and telephone box. This tea towel by Victoria Eggs, will make you smile in the kitchen as well as help with the washing up.


- Handmade in Britain, printed onto 100% organic cotton. 

- Dimensions: approx 48 x 76 cm.

- Washing: Machine washable, max 40 degrees celsius.

- Complete with a handy hanging loop.