Malmö City awards Shop of the Year to Taste of Britain! 🏆
When you walk in the door, you have left the city and traveled abroad. In the background, British radio is played, the goods are neatly arranged with care and reflection. As you inhale the warm and cozy feeling, your gaze is met by a big smile and BBC radio is overwhelmed by a happy "Welcome!" from the staff. In addition to a trip abroad at home, Taste of Britain also provides insight into how to run a store in the best way. The wide range not only gives you a taste of Great Britain, the professional service, competence and genuineness give you the whole experience!

Malmö City jury's motivation awarding "Shop of the Year 2021" to Taste of Britain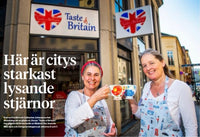 We want to say a big THANK YOU to all of our wonderful customers for supporting us! We could not have done it without you.
–Karren & Catherine
More info about the award
Featured items from our shop
A little about us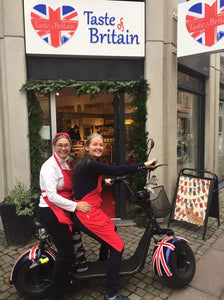 Hello and welcome!
Taste of Britain is a little independent shop located in Malmö, Sweden, providing our international family with all their favourites from Britain.
Testimonials
Taste of Britain, with its best of British has really made my day. As I can't visit the shop myself, due to self-isolation, I got in touch with the helpful and friendly shopkeepers via messenger. The two lovely ladies got back to me immediately and in no time at all my goodies were delivered. Hubby and I will be drinking Yorkshire tea and eating crumpets with Marmite in a few minutes! Thank you so much!

Unn Printz-Påhlson, via Facebook
Brilliant shop! We went to Malmö yesterday and stocked up on everything we had been missing since we arrived in Copenhagen in December last year.  Will definitely make this our regular trip! The staff are so lovely and asked if there is something we could recommend that they don't currently don't currently stock. Highly recommend this shop! Give it 5 🌟.

Lynda Wiltshire, via Facebook
This is the place to go when you need a taste of Britain!👌🏼✨ here you can get Cornish clotthed cream, biscuits for your tea, Fentemans, and Fevertree, Pasties, Sultana scones, Marmite, Christmas puddings and Crackers!🎉 In short this is the place you go so that you can get life's necessities! Not to mention a nice chat together with the lovely Ladies who makes it all possible 👌🏼✨🇬🇧

Michelle Levy, via Facebook
Location
Our store
Engelbrektsgatan 6
211 33 Malmö
Mon - Fri, 10 - 18
Saturday, 11 - 16
Sunday, Closed