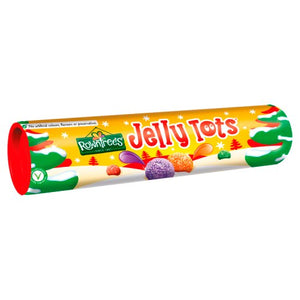 Jelly Tots come in 5 different flavours: orange, strawberry, blackcurrant, lime and lemon. 

Ingredients

Sugar, Glucose Syrup, Starch, Acids (Malic Acid, Citric Acid, Lactic Acid), Concentrated Fruit Juices (1%) (Blackcurrant, Orange, Lime, Lemon, Strawberry), Acidity Regulator (Trisodium Citrate), Flavourings, Colours (Anthocyanins, Copper complexes of Chlorophyllins, Carotenes, Curcumin).

Suitable for Vegetarians.