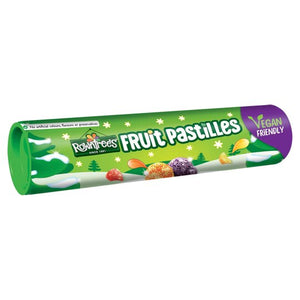 Fruit Pastilles come in five classic flavours - lemon (yellow), orange (orange), blackcurrant (purple), strawberry (red) and lime (green). They have no artificial colours or flavours, and contain 25% fruit juice.

Ingredients

Sugar, Glucose Syrup, Gelatine, Gum Arabic, Modified Starch, Concentrated Fruit Juice (1%) (Lime, Orange, Blackcurrant, Strawberry, Lemon), Acids (Malic Acid, Citric Acid, Lactic Acid), Acidity Regulator (Trisodium Citrate), Flavourings, Colours (Anthocyanins, Curcumin, Beta-Carotene, Copper complexes of Chlorophyllins).

Free From Artificial Colours, Free From Artificial Flavours, Free From Artificial Preservatives.